Premier Power Solutions can assist you in sourcing and evaluating funding options for your next energy efficiency project(s). These projects can be paid for through monthly charges that appear on your energy supply bill.
How it works:
In collaboration with you, we clarify your goals for energy efficiency.
Your local contractor or one of Premier Power Solutions' preferred vendor partners will complete a site visit to determine which efficiency options provide the best value for you and meet your goals.
A scope of work is drafted, the costs established and an estimate of the energy reduction resulting from the project is identified.
You execute a contract to purchase electricity and the efficiency measure(s).
The efficiency measure(s) are completed and you begin to see the savings impact.
Your energy supply bill will include a separate line item for the efficiency project installment payment.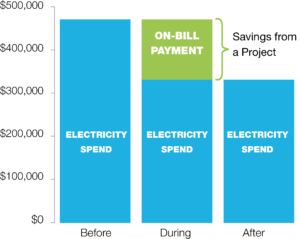 Program Benefits:
No initial cash outlay*
Designed to decrease electricity usage
Avoid maintenance interruptions
Potential tax benefits
No penalty for early payoff
One provider and invoice for electricity and projects
*Subject to credit approval.
Let's get stared.