Over are the days when energy budgets were just about buying electricity or natural gas "at the best price." Technological advancements today provide a heightened awareness of energy usage, energy fuel types, and sustainability. To optimize your energy usage and budget spend, today's commercial energy strategies must dig deeper to uncover insight that goes well beyond low-cost commodity procurement.
Understanding your energy data can open new opportunities for energy and cost-efficiency. It pays to turn your focus to the energy initiatives and solutions that will provide the greatest positive impact. Gaining insight into your unique energy usage and consumption across the entire organization will enable data-driven decisions and help to improve efficiencies. The answer lies in the data – through the targeted analysis of your energy consumption over time. This is what we call your "load shape" or "load factor."
How Your Load Shape Impacts Your Energy Costs
Your load shape is the curve that is formed by your consumption of energy for a specified period of time. This is typically over a 24-hour period, although seasonal load shapes can also be relevant depending on your location and weather patterns. When a supplier prices your electricity, they are doing this based on your load shape. Your load shape impacts what you get for a commodity price, your capacity costs, and other ancillaries.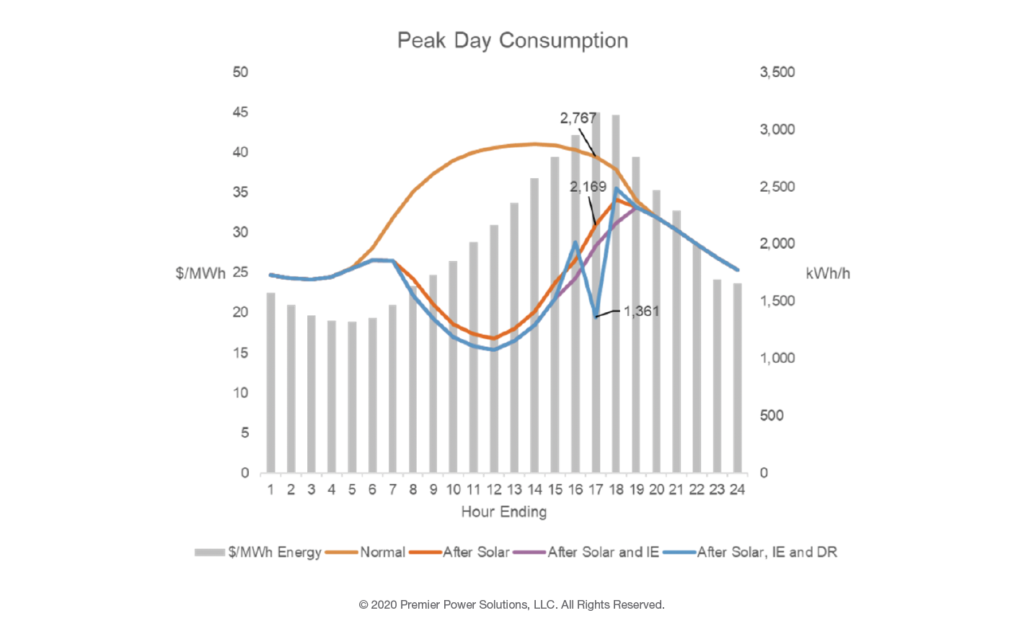 The above graph shows an illustrative case of what your hourly energy consumption may look like on a peak energy day–or your Peak Day Consumption. The grey bars represent the cost in dollars per megawatt-hour (MWh) for each hour in the day. During peak usage hours, prices will rise, sometimes several magnitudes over the average price. A typical fixed-price contract allows you to pay an average cost per kWh over the course of the contract. Embedded in that average price are higher cost hours and lower-cost hours.
One option is to identify the top 10 or largest energy-consuming devices in your facility. By make adjustments to when these devices are used, you can potentially reduce the energy that you consume during the high-cost hours and lower your overall average energy cost as a result. Coupling this detailed understanding of your energy consumption with energy initiatives such as solar energy, lighting upgrades, and participation in demand response and sync reserve markets, facilities have the potential to significantly reduce their overall energy costs.
The example in the peak load consumption graph demonstrates that, if you implement strategies that change your load shape (reduce your hourly load) during the more expensive hours of the day, you can significantly reduce your energy costs. It is also important to note that you'll need to have the right type of electricity supply contract in place to be able to benefit from these strategies.
This is just one example that illustrates how making data-driven decisions can change your load shape to reduce energy costs and your facility's carbon footprint. It also demonstrates the importance of taking an integrated and innovative approach to energy usage, energy procurement, and renewable energy initiatives.
A common mistake that many organizations make is looking at energy efficiency, procurement, and sustainability as independent silos. Doing this can create long-lasting, unnecessary, and costly mistakes. If you want to experience measurable, financially rewarding change, it's time to break open those silos and take a more holistic approach. Leveraging an integrated analysis of all three key driving factors will provide the greatest insight.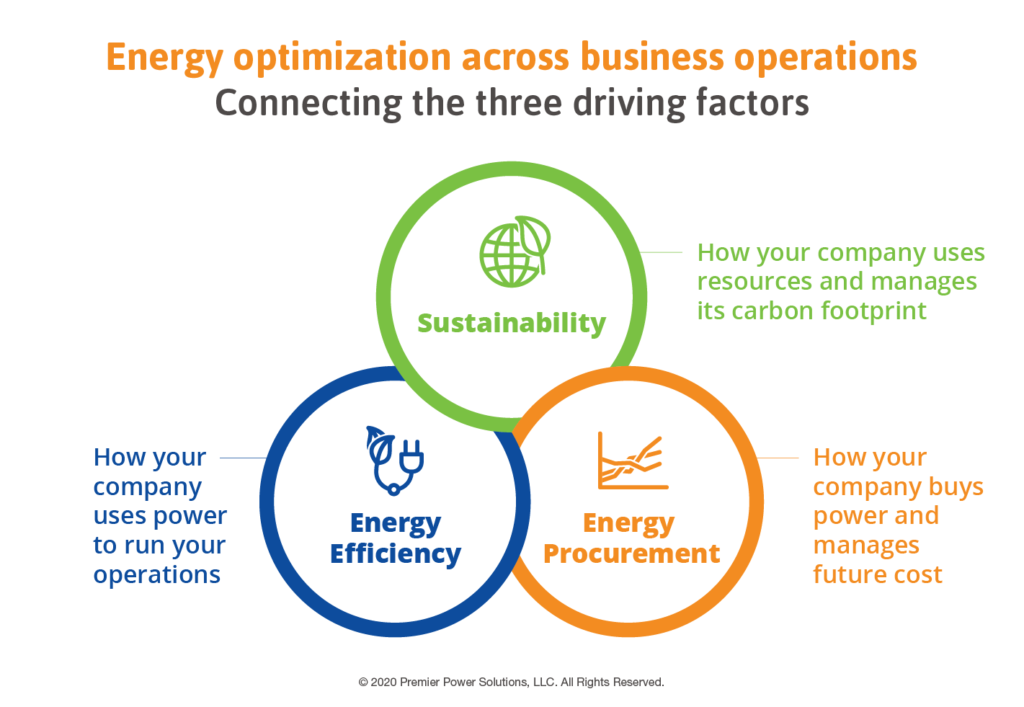 The Integrated Energy Optimization Approach
Cost-effective energy management requires an integrated approach to optimizing all three driving factors that have historically been managed in silos.
Energy Procurement: How your company buys power
Energy Efficiency: How your company uses energy to power operations
Sustainability: How you use resources to manage your carbon footprint
Conducting a forward-looking analysis that incorporates a variety of energy options allows you to prioritize, plan, and execute an optimized energy strategy. Once you understand the potential cost savings and sustainability benefits of certain actions, you can then take a deeper dive into your operation, facilities, and energy usage data to develop a road map. Each of the actions you undertake will have an impact on the economics of subsequent actions (remember our load factor example above) so it's a good idea to evaluate energy efficiency, demand response, and distributed generation applications together with an overall energy procurement strategy.
With your roadmap in hand, you can make better-informed decisions and source energy procurement and management solutions with confidence.
Introducing Commercial Optimizer
Large organizations are benefiting from an integrated, data-driven approach to energy procurement and management–and you can too. If your organization is ready to break through the silos for access to greater insight, you don't need to hire an energy management team or invest tons of capital to do so. Premier Power Solutions has developed the Commercial Optimizer. This innovative analytics tool provides the data you need to understand which energy solutions and projects you can modify–and in what order of priority–to achieve your company's financial and sustainability goals. Commercial Optimizer uses your organization's unique and specific data to produce customized results.
Whether your results call for energy efficiency, renewables, demand response, different supply contract structures, or all of the above, Premier Power Solutions can be your trusted energy consulting team to analyze and source your ideal solutions. Contact us today to request your Commercial Optimizer consultation.