Unlike the more common 'behind the meter' solar, where you put solar panels on your roof or on your own land, community solar allows you to effectively purchase solar energy from panels that are not on your property or owned by you. These fields of solar panels work to generate renewable electricity that feeds into the utility grid.
How Community Solar Works
Subscribers, or members, of a community solar project sign up to take a portion of the electricity generated from the solar panels. A combination of businesses and residents can buy energy to offset what they are using at their facility or home. The utility will then recognize each subscriber as providing renewable energy to the grid and will issue energy credits on the subscriber's utility bill.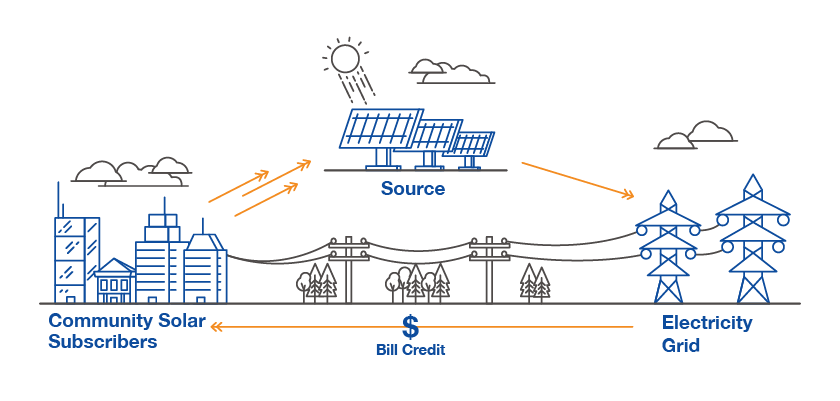 What to be aware of
In order to participate in community solar, your state needs to have a program in place that allows "virtual net metering". Virtual net metering provides you with credits on your utility bill for the grid connected solar you receive through a community solar project.
If you are considering community solar, it's important to make sure that your utility bill is large enough to offset the credits you may receive by participating.  The credits can only be applied to your utility bill, not a separate supplier bill. Companies can consider consolidating the supplier charges on their utility bill, but it's important to note that not all suppliers and utilities will provide consolidated billing. Check with your Premier Power Solutions Consultant to help better understand any billing implications you may have. State rules may allow credits to be re-allocated among multiple sites in the same electric utility load zones.
In cases where you are looking to claim the value of the environmental attributes of community solar, it is important to understand where the actual environmental value is going. For example, in New York, the official environmental value of community solar goes to the utility. The utility is using the environmental attributes to meet its renewable standards on its system. Because of this, you will not be able to claim the environmental attribute, but rather only receive the energy credit on the bill. If part of your goal is to be able to make the environmental claim, you may want to consider Renewable Energy Credits (RECs).
We strongly encourage you to contact your Premier Power Solutions Consultant if you are considering solar, either traditionally on your property, or through a community solar project. We can help you evaluate the economics and advise you on the key factors to look for so you avoid potential pitfalls. We can also help you source the best solar solution for your facilities.
Our Services
Strategy consulting: We work with you to understand your goals and objectives, and help determine if becoming a subscriber of community solar makes sense as a part of your energy strategy.
Feasibility assessment: We assess the feasibility of community solar in your area and provide recommendations based on your desired results.
Provide quotes: We will reach out to the marketplace for community solar projects, obtain quotes and present you with your options.
Energy budget analysis: We will provide you an energy budget analysis showing the impact of the energy bill credits from the Community Solar on your organization's energy budget.
Why Choose Premier Power Solutions
Decades of experience developing and executing multi-faceted energy strategies aimed at maximizing savings and mitigating budget risks
Premier Power Solutions is part of the NextEra Energy family of companies. NextEra Energy, Inc., is a Fortune 200 company, and the world's largest generator of energy from the wind and sun, with 21,000 MW of net generating capacity as of 2018
Sophisticated data analytics for solar and financial analysis
Rigorous qualification criteria for vendors; we sit on your side of the table to ensure your best interests are met
To find out if your organization is a good candidate for community solar, talk with a Premier Power Solutions' energy consultant today.
Let's get stared.